Amidst the bustling IT hub of Chennai, numerous software testing courses promise to equip you with the skills and certifications necessary to embark on a successful career in this dynamic field. However, choosing the right course is a daunting task, especially when considering the importance of placement opportunities. To help you navigate this decision, we've compiled a list of the top 5 software testing courses in Chennai with placement that offer comprehensive training, industry-recognized certifications, and dedicated placement assistance, setting you on the path to a rewarding career in the world of software testing.
Software testing is an important procedure in the software development life cycle which offers multiple advantages. Software development courses for testing improve software quality by discovering flaws early and reducing the risk of costly rework later. As a result, the project's overall cost is reduced, and client satisfaction is ensured by delivering high-quality software that fulfils their objectives and expectations.
Moreover, software testing helps identify and resolve legal compliance issues, ensuring that the program fulfils the relevant regulatory standards. Software testing is therefore essential to creating reliable, secure, and high-quality software that satisfies customer expectations and complies with relevant standards. Looking for software testing training in chennai? You can find many institutes that offer the best software testing classes in Chennai with placement assistance such as Livewire, FITA, Besant Technologies, and more.
Careers after learning Software Testing Courses
Completing software testing courses in Chennai opens up a wide range of career opportunities in the software development business. Here are some of the most common professions:
Software Tester
Software Developer
Quality Assurance Engineer
Test Automation Engineer
Test Manager
Test Analyst
Business Analyst
In this topic, we will look into the Top 5 Software Testing Courses and the institutes that offer software testing training that offer software testing courses in Chennai with placement.
Selenium Software Testing
Selenium is a well-known open-source software testing platform for automating web browsers. It enables testers and developers to create automated web application tests in a range of programming languages such as Java, Python, C#, Ruby, and JavaScript.  Selenium for Beginners training course can instruct you on how to utilize this powerful technology to improve your web application testing abilities.

A Selenium course would often cover a variety of subjects, such as installation and configuration, Selenium WebDriver, developing automated tests, troubleshooting, and best practices for test automation. To take advantage of the finest Selenium Training in Vadapalani, enroll at the LIVEWIRE Vadapalani / Porur branch. Our Selenium automation testing course is intended to teach developers and testers how to utilize the Selenium framework to automate tests and increase testing efficiency. Overall, a Selenium automation testing course is an excellent choice for software developers and testers looking to improve their testing skills and become more productive. You can automate tests, speed up the testing process, and ultimately offer higher-quality software applications by understanding Selenium software testing.
ISTQB Certification Course
The ISTQB (International Software Testing Qualifications Board) is a worldwide recognized certification course for software testing professionals. It is intended to improve software testers' abilities and knowledge, and it covers a wide range of software testing topics. The ISTQB certification course was developed by a committee of international specialists and is available through certified training providers. The course is organized into three levels: Foundation, Advanced, and Expert.
The ISTQB Foundation level is the entry-level certification, and it covers the principles of software testing. Topics covered in the ISTQB certification course include testing methodology, test management, testing tools, and Automation testing. This level's test consists of 40 multiple-choice questions, with a pass mark of 65%. Candidates must attend an official training course and pass the required exam to get certified.
The ISTQB certification course is well-regarded in the software testing business, and it is accepted by organizations all over the world. It is a crucial accreditation for software testers that displays their knowledge and skill in software testing.
Automation Testing Course
Automation testing is the process of executing test cases and evaluating the outcomes using specialized software tools. It is an important phase in the software development process since it guarantees that the software functions as planned before it is released.

If you want to study automation testing, taking an automation testing course can help you develop the information and abilities you need to become a successful automation tester. Learning Automation testing courses can help you save time and effort compared to manual testing. You can run automated tests overnight or over the weekend, allowing you to find bugs and issues faster without spending your working hours on repetitive tasks.
Taking an automation testing course will provide you with the information and skills necessary to succeed as an automation tester. It will assist you in standing out in the job market and furthering your career.
The DevOps Testing course focuses on the convergence of software development and operations. This DevOps course will educate students on how to use DevOps to automate the testing process, allowing for the speedy delivery of high-quality software. The DevOps Testing course covers several subjects, such as test automation, continuous testing, continuous integration, and continuous delivery.
One of the course's primary goals is to teach students how to build an automated testing framework. This framework will enable testers to run automated tests on a regular basis and detect problems early in the development process. The framework should able to interface with numerous testing tools, allowing the testing team to test various elements of the product, such as functionality, performance, and security.
Continuous testing and integration are important components of the DevOps testing course, and this course will teach students how to deploy it and how to establish continuous integration in their organizations. Continuous testing entails testing software continuously rather than simply at the end of the development process. You can find many institutes that offer software testing courses in Chennai with placement like DevOps, Selenium Training etc.., 
Overall, the DevOps Testing course teaches students how to include testing in the DevOps process. The course includes topics like test automation, continuous testing, continuous integration, and continuous delivery. By the end of the course, students will have acquired the knowledge and abilities required to successfully implement a DevOps testing strategy in their organizations.
Performance Testing Course
A performance testing course is a training program that teaches individuals the skills and techniques needed to undertake software application performance testing. Performance testing is an important part of software development since it ensures that applications can manage the predicted load and function well under duress.
Typical topics covered in the course include test strategy and design, workload modelling, test execution, results analysis, and reporting. The various types of performance testing, including load testing, endurance testing and, stress testing as well as the tools and technology utilized in these procedures covered.
The Performance training course might be delivered in a variety of ways, including online self-paced learning, instructor-led virtual classrooms, and in-person training sessions. Some courses may also provide certification programs, allowing students to show potential employers their skills in performance testing. There is numerous software testing training institute in Chennai that provides software testing training with placement.
Overall, a performance testing course is an excellent choice for anyone involved in software development, such as developers, testers, and quality assurance specialists. It equips participants with the information and skills required to ensure that software applications perform successfully under real-world settings, hence improving the user experience and protecting the organization that creates the software's reputation.
Top 5 Software Testing Training Institutes in Chennai
The following top 5 software testing course in chennai  are with placement assistance to students after completing the software testing training:
LIVEWIRE Software Courses
Green Technolygs
FITA
Besant Technologies
Softlogicsys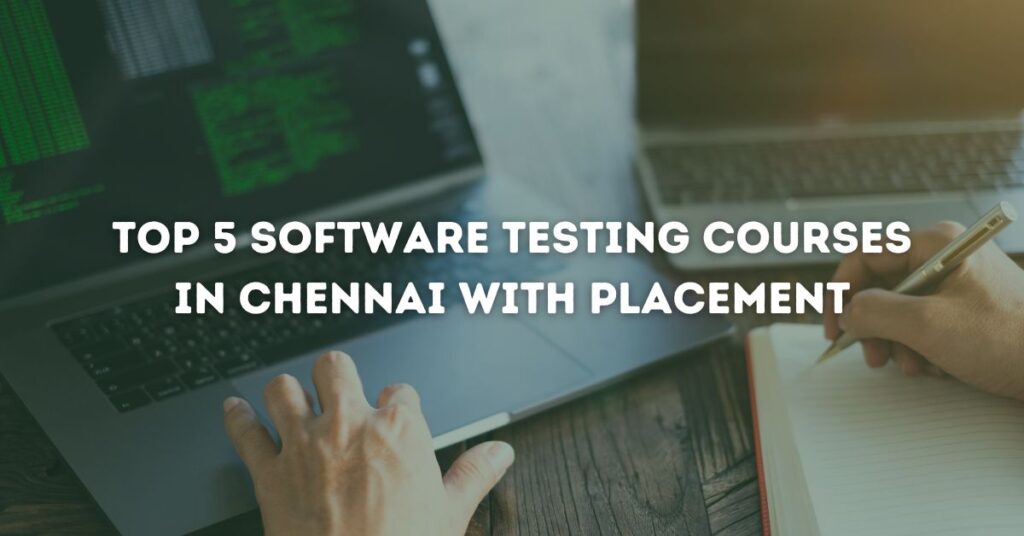 LIVEWIRE Software Courses
LIVEWIRE is one of the best software courses in Chennai that offers software courses like Selenium Automation Testing. Livewire is a division of CADD Centre Training Services, a National Skill Development Corporation (NSDC) recognized Skill Development Partner that promotes a unique combination of technologies relevant to the IT, Computer Science, Electronics, and Electrical fields.
LIVEWIRE's Vadapalani and Porur branches are best for people wishing to study selenium for beginners to advanced-level automation testing with a selenium training course in Chennai. For individuals who are serious about a future in automation testing with selenium, our university offers the best selenium training by teaching students from the ground up.
Greens Technologies is also a top institution providing software testing course with placement in Chennai. The courses at Greens Technologies are meant to master trainees in software testing Methods and upgrade their skill set to the next level. They have a long history of technology-based and code-based pre-employment testing in addition to providing end-to-end corporate recruitment solutions. Their hands-on testing on role-based simulations reveals the true software skills matrix and removes the guesswork from the hiring process.
FITA Academy is one of the best testing training institute in Chennai. Throughout the course, you will obtain a thorough understanding of software testing others. They provide the most complete curriculum, which has been particularly designed by qualified teachers to match the industry standards. FITA Academy is the best place for software testing course in Chennai.
Besant Technologies provides a variety of testing courses, including Selenium testing, Manual testing training, and DevOps. Besant Technologies is a good option if you  searching for a testing institution in Chennai that keeps students up to date on the latest software testing trends while also offering practical skills.
Softlogic Systems provides a variety of Software testing courses, including Manual Testing, Automation Testing and JMeter. One of the best software training institute in Chennai, Softlogic Training Institutions focuses on the latest testing courses and offers talented students a top-notch training opportunity. They have a moral responsibility to never hire students for employment; instead, they provide them with the required job skills, encouraging the development of self-sufficient and committed employees.
Placement based software courses in chennai are essential for those wishing to pursue a profession in software testing. These courses give students an in-depth understanding of software testing and provide practical skills employers highly respect. There  various institutions in Chennai that provide software testing courses with placement prospects, and selecting the right one for you can be challenging.