Python : Ultimate Language of Coding
Learn Python training in Chennai with Certification & 100% Placement Support
Get trained By Experts In Python Programming!
LiveWire stands out as the top choice for Python education, thanks to its hands-on approach, real-world coding challenges, and personalized feedback, all of which foster rapid skill development in a supportive and engaging online environment. Whether you're a beginner or looking to advance your Python proficiency, LiveWire's carefully curated curriculum and experienced instructors make it the ideal platform to excel in Python programming.
Python Training Curriculum
Certification for Python Training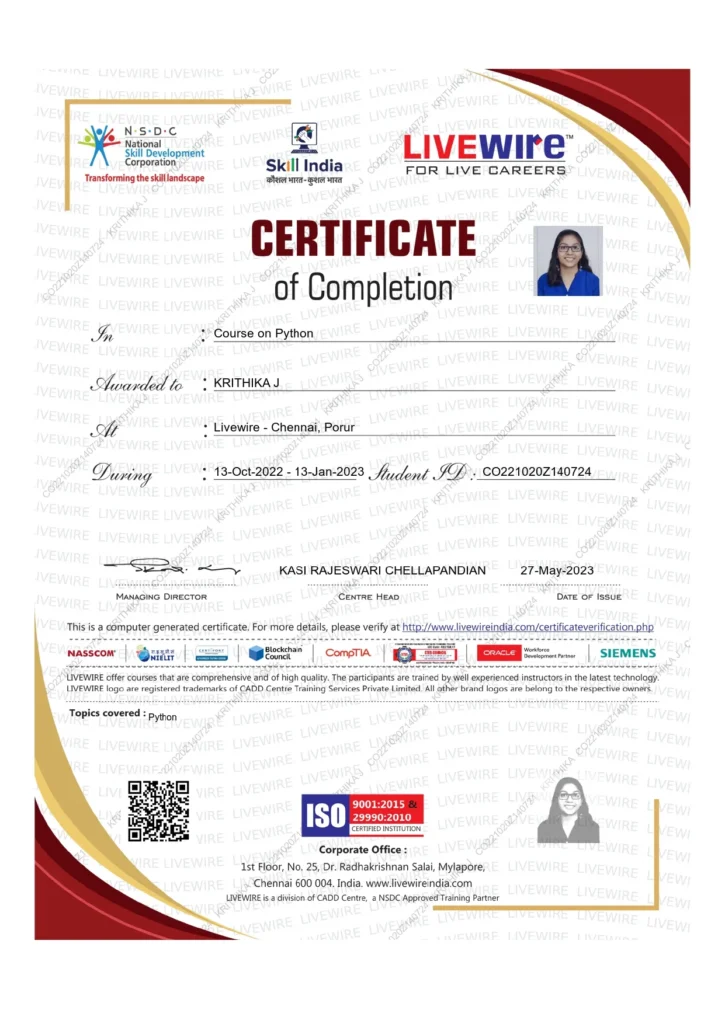 Data Science with Python training
Embark on a transformative journey into the world of Data Science with LiveWire's comprehensive Python-based course. Delve into the realms of data analysis, machine learning, and visualization, guided by industry experts who provide practical insights and hands-on experience. Gain proficiency in Python's data manipulation libraries and develop the skills to extract valuable insights from complex datasets, making you a capable and sought-after Data Scientist in today's data-driven landscape.
• Blockchain
• Artificial Intelligence
• Robotic Process Automation
• MIS Pro
• Office Automation
• Employability Proficiency Program
IT Infrastructure Management
• Network Engineering
• Network Security
• Ethical Hacking
• Linux System / Server Administration
• Cloud Computing
• Cyber Security Analyst
• Electrical Power System Analysis
Electronic Design Automation
• PCB Editor
• OrCAD – Capture
• OrCAD – PSpice
• MATLAB for Electricals
• MATLAB for Electronics
• Automotive Embedded System Design
• Embedded Linux
• Microcontroller
• Advanced Microcontroller
Education is any kind of knowledge transitioned into learning. LIVEWIRE promotes niche training in IT, Electronics & Electricals creating experts for emerging technology industries and specialist technology jobs. A part of CADD Centre, which is Asia's largest CAD/CAM/CAE training institute. LIVEWIRE is present in 100 locations across India and 6 Countries.
Being the Market leader with a vast experience of 3 decades, LIVEWIRE courses are designed as per the industry needs.
The Product Portfolio is filled with technologies that are current and trending. We choose courses that have a high level of scope in the Job market.
Happy customers build our strong Alumni network, where they share their industry experience with the next generation.
Certified for the Quality Training and Competence of learning service providers to all relevant stakeholders